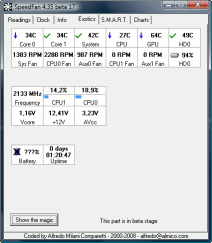 SpeedFan 4.52 beta 4 is online!
This beta has been compiled with Delphi XE2. The move from the almighty Delphi 7 has been done! The side effect is that support for Windows 9x/Me has been dropped: now the minimum requirement is Windows 2000.
I will appreciate SEND REPORTs from SpeedFan's INFO tab from any system you are using, so that I can
validate the ton of changes
I had to apply to the source code. Preliminary tests seem to say that everything
will work fine
on every system :-)
This beta adds support for new hardware (including Intel Z170).
Don't forget that you can upload your configuration by using this link. I would really appreciate if experienced users with nicely working configurations could find 30 seconds to upload their configurations to help other users :-)
I just added my profile (almico) on Linkedin. If you are on that network and you like SpeedFan I would really appreciate if you could recommend me as the Project Leader and Developer at Almico Software.
What is it the Beta Program
Every now and then I create some bleeding edge versions of SpeedFan, or of some other softwares (always related to SpeedFan), to receive feedback from the users. Such programs try to access new hardware or try to investigate new ways to read available data. Before going into the mainstream SpeedFan, I need to make sure that everything works fine and that nothing else is broken. Everything I post here has been previously tested on my very own computers.
In order to be able to download from this page, you must login to this web server and your registration must have been confirmed. Registering to this web server is really easy and email addresses are not abused. You can have a look at the
privacy statement
. Once registered you will receive an email with a link to visit. Visit it and you're ready to go :-)
All the downloads posted here should be considered experimental. Everything was previously tested on my own hardware and on my production computers. This means that you can trust me when I say I did my best not to hurt anything. Nonetheless, a beta software might hurt your hardware and you might lose your data. Always close other programs prior to running anything you download from here and backup your data. You should try these programs only if you know what you are doing and if you are willing to help me by sending your feedback.
Because of the nature of this area, you are not allowed to mirror these files. These files change often and this page includes important info about their usage and the eventual problems they might cause. I'm spending a lot of time helping users that didn't download the beta from here and this can't be my main task. Furthermore, these files are accessible only to registered users. Publishing them on any other page is strictly forbidden. Feel free to let your readers know about these betas, but simply point to this BETA PROGRAM page. Thank you for your cooperation.
Please,
register
or login in order to access available downloads.
SpeedFan 4.52 beta 4 (30 oct 2015)
Because of the nature of this beta, please, do not mirror (it would be a copyright violation) this file.
This beta will expire, but a FINAL release will see the light long before then.
Beta 4
changes:
Added full support for ITE IT8771E.
Added support for latest Intel CPUs.
Improved hard disk SMART access.
Added full support for Intel Z170 (Sunrise Point).
Added support for fan speed reporting on some laptops.
Added full support for Nuvoton NCT6793D.
Added full support for Atom C2000 SMBus.
Bug fixes and more.
Beta 2
changes:
Moved from Delphi 7 to Delphi XE2 (minimum supported OS is now Windows 2000).
SMBIOS and ACPI tables are now read using alternate routines.
Added support for new sensors found in multiple laptops.
Added full IPMI support.
Bug fixes and more.
SpeedFan.exe is digitally signed using my company's (SOKNO S.R.L.) certificate.
In order to run this beta, simply install SpeedFan 4.51, then replace the EXE (or put it in any temporary folder) and run it.
Please, use the SEND REPORT facility on the INFO tab to help me to evaluate the improvements I coded.
Tool to read ACPI TABLES 1.11 (15 apr 2010)
This tool has been superseded. SpeedFan 4.43 on will automatically send the relevant information.
Program to attempt to set AAM on hard disks that support it 1.01 (15 dec 2004)
This software tries to understand which OS and which drivers do support the relevant calls that need to be done in order to set AAM (Automatic Acoustic Management) on modern hard disks. It works only on NT class operating systems. I'm not sure if it works on NT too, but it works for sure on Win2K. Unzip, run and then use the integrated facility to send me the report. Please, send me reports even from systems where it doesn't seem to work.
Version 1.01 now properly identifies hards disks where AAM is available, yet disabled, and goes on with the test.

Program to access SCSI HD temperature and reliability data 1.13 (18 feb 2004)
Even if, since version 4.21, SpeedFan includes full support for SCSI drives, this tool is still useful as it allows me to see more data from SCSI drives. With the help of your reports I can try to find and show new info about your SCSI drives. This tool never caused any harm to any system and its low level code was included in the mainstream release of SpeedFan.